We recently had the opportunity to speak with Randy Whittaker, co-owner and operator of Tin Whiskey Southern Kitchen and Still, with his wife Stevie Whittaker. We've been very fortunate to work with the Whittakers to help them create a signature dining experience for their guests. Here's what we learned.

FLAT: Tell me about the Tin Whiskey.
Randy: We've been in the restaurant business for 21 years here in Cocoa, FL. We had a 20-year lease on our previous location that was about to expire and knew that we'd be needing to find a new space. This was all done in the middle of the covid pandemic, so we were focused on having lot of dining space options to facilitate the need for outdoor dining and social distancing for our guests. We were fortunate enough to be able to purchase another property that used to be a very popular location for locals and visitors. The new property had a ton of potential and we invested heavily in creating an amazing concept for Tin Whiskey Southern Kitchen and Still. There is a gorgeous outdoor seating area that has great views and some beautiful decor. It is the centerpiece of the main entrance to the Cocoa Village area and a very popular destination for locals and tourists alike.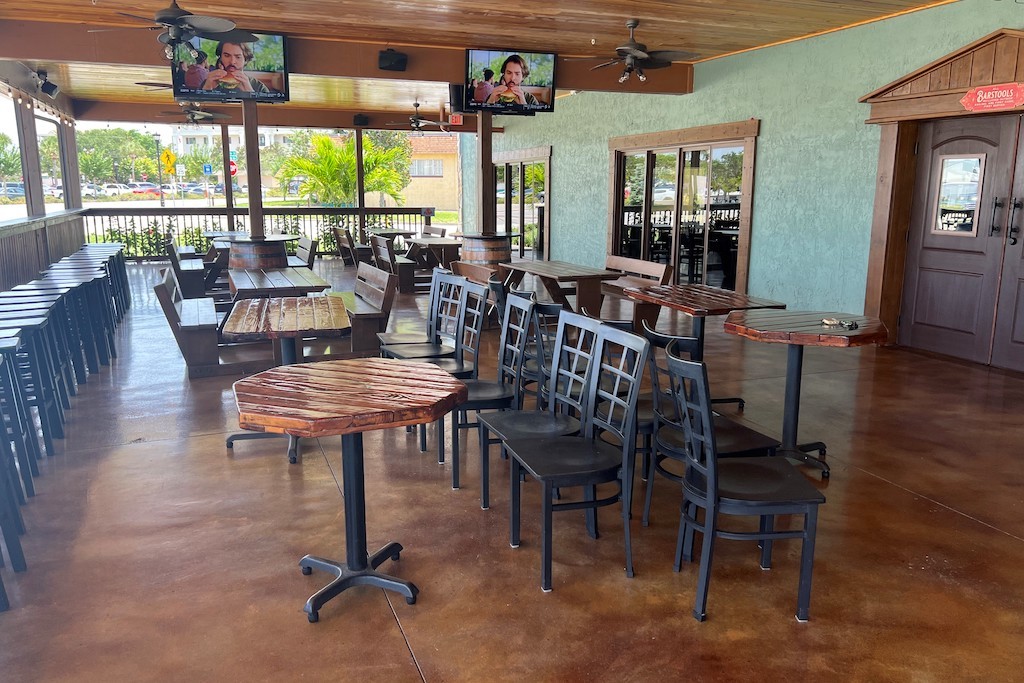 FLAT: What was the issue with the furniture?
Randy: Well, the location had been in business for over 30 years and a lot of the tables were starting to show their age. Many of them had lost their original screw-in feet and were in danger of scratching the new concrete floors we had just refinished. We didn't have the budget to replace all the tables and were trying to figure out what we were going to do. As luck would have it our local FLAT representative came in to introduce themself and we began talking. A few minutes later, he had brought and installed 20 sets of FLAT Equalizers. He was down on the ground installing them on our table bases so we could see the dramatic different their products could make. I was amazed by his claims, and even more amazed that he was right! The tables worked like new and were perfectly stable on every flooring surface. I was impressed by how professional the finished product looked and how easy it was to install them. Since then, we've gone on to fix our other tables and even ordered some FLAT table bases to expand our dining area. Everything we've gotten from FLAT has worked exactly as claimed and been a perfect fit for our needs.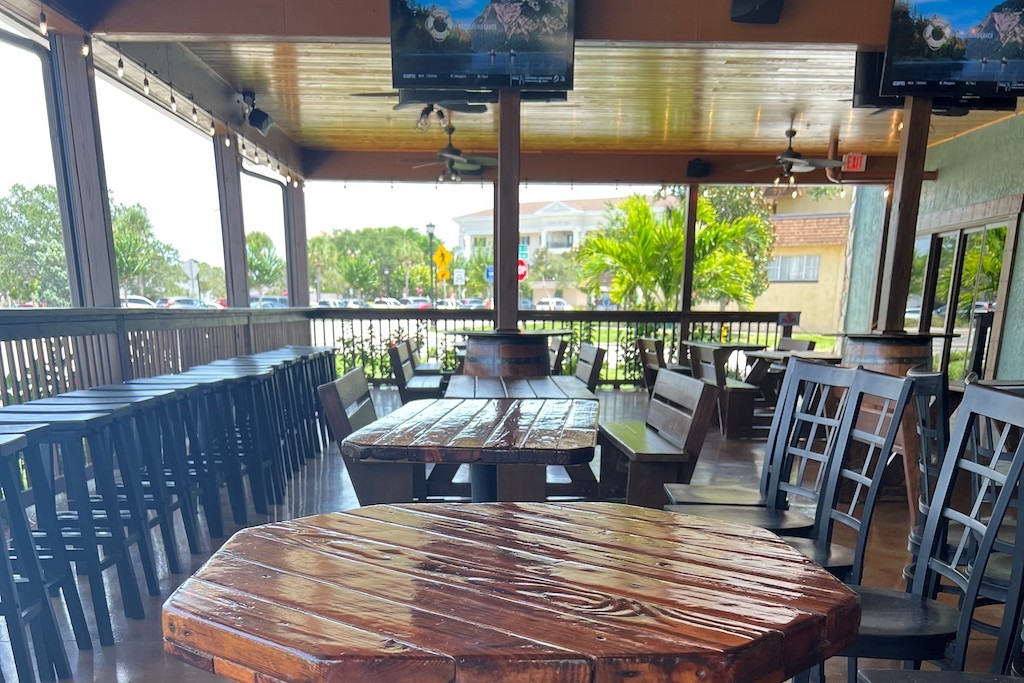 FLAT: How are you differentiating FLAT products?
Randy: Our biggest draw is our location and the outdoor dining experience we've created. There's a lot of refurbished original floors, tin roofs, and rustic decor in Tin Whiskey Southern Kitchen and Still. It's a place people love to come and hang out. The location is perfect too. We get a ton of traffic because we are on the main corridor into Cocoa Village and our place is hard to miss. We also have a great friendly staff and lots of amazing dining options on the menu, but we get a lot of comments about our dining experience. The challenge with that has always been keeping tables stable since we're dealing with a lot of surfaces that are just not flat. It was a huge win for us to finally have a permanent solution to create the customer dining experience we want for every guest without having unsightly shims, napkins, coasters, or other garbage shoved under table legs to stabilize our older tables. FLAT was a perfect partnership solution for us, and we couldn't be happier.
FLAT: How did you learn about FLAT Tech?
Randy: They just came in one day with this solution - they were an absolute Godsend! I'm so glad he stopped by and shared what FLAT was making.
FLAT: How long have you been using their products in your location?
Randy: We've had them installed for about 8 months at this point and couldn't be happier with the results. They just work!
FLAT: What has been your experience?
Randy: One of the things I've loved most about FLAT and their products is how economically viable they are for a restaurant owner like me. They are very reasonably priced for the solution they provide, and they look great! Of course, even beyond the products, I've been impressed with my experience with their customer service and sales team. It's been a perfect professional experience from start to finish. With the major renovations and construction we were doing to the new location, we seemed to always be dealing with sourcing issues, delays, and vendors who just couldn't deliver the products we desperately needed in a timely manner. FLAT, on the other hand, were responsive and had everything we needed to repair and/or update our tables in stock and ready to deliver. Beyond that, their customer service staff and sales representatives consistently went above and beyond to make sure we got what we needed and that everything worked as promised the first time. It's been a great experience for us all around.
FLAT: Do you feel like the investment has been profitable for your brand? Why/How?
Randy: [Laughs] It's one of the best investments we've ever made and also one of the smallest for the results it has given us. I'm reordering more table bases as we speak. I don't think I'd ever order anything else at this point.
FLAT: What's next for Tin Whiskey Southern Kitchen and Still?
Randy: Well, we opened the doors in January of 2022 and were almost immediately booked nearly every day for dinner. As the season has progressed, we are now planning on opening for lunch in the near future to expand our traffic. It's been a great opening, and we're looking forward to a very successful growth trajectory in the coming years. We're really looking forward to continuing to welcome guests and providing them with an amazing dining experience.
We want to say a very sincere thank you to Randy for taking the time to share his experience with us. These stories of success from our partners are so incredibly important to us. To hear owners and operators be able to put aside the concerns and stress of dealing with furniture that could negatively impact their guest's experience is what motivates us to always be innovating and improving our services and products.
If you'd like to learn more, or schedule your own in-person demonstration of how FLAT tables bases, Equalizers, and other products could help you improve your guest's experience, feel free to reach out to us through our contact page, or call us at (855) 999-3528. We look forward to working with you!