How to build a brand experience that endures
One of the greatest parts of working in the pizza industry is knowing how much your product means to so many people. After all, we all know that pizza is the ultimate comfort food. It really does have the power to delight your customers in a way that very few other dishes can!

So, creating a unique brand position within the pizza market has a tremendous upside. That, unfortunately, means your beloved pie potential will also attract a lot of competitors for your valuable customers. You have to be able to create a unique and positive brand experience that connects visitors with your locations. That means you need to consider how your pizza experience is going to differ from others in your market. You can accomplish this through many different avenues. A lot of new pizza concepts are building their market share through unique ingredients, upscale dining atmospheres, and more exotic menu options. Customers are very interested to see how restaurants are creating new ways to enjoy pizza.

We've put together this article to hopefully give you some tools to help you protect and expand your market share with your locations. These concepts can give your brand a winning advantage in the markets where you compete—no matter what your current size. Of course, being a pizza article, we've gone with a classic 3-cut strategy that gives us 6 delicious ideas to consume. Enjoy!


Slice 1: Be local

One trend that is not going to change any time soon—especially in the pizza marketplace—is for brands to relate locally. It doesn't matter if your company is a national chain with locations across hundreds of communities. You still need to be able to engage as a local community member.

Why is this so important in the pizza market? Because your product is a commodity of youth! That doesn't mean that only kids eat pizza (which we all know isn't true), but that pizza is something that is loved by kids, students, college coeds, and young professionals. It speaks directly to a youthful demographic. Being local is very important to all the major buyers for these demographics—from the parent who wants to support local businesses that invest in the community, the school teacher that wants to run local fundraisers through business that support local educations, all the way to the young professional that desires to grow the local economy by supporting invested businesses. Being local means being top-of-mind to your target customers.


Slice 2: Be the life of the party

Another idea that follows this same line of thinking is being the voice of fun and festivities. Pizza is the perfect party food, after all! Your brand should have a voice and message that is all about fun with friends and family. The environment within your locations should be inviting and encourage social interaction. It should be as much about the entertainment of the brand experience as it is about the quality foods you prepare.

Being the life of the party doesn't mean that you have to have an arcade and singing robots on a stage—although there are brands have cornered some serious market share doing just that. You decide what kind of "party" aligns with your brand strategy. If you are an upscale—ingredient-forward—concept, then you probably want to present a fancier soiree. If you're all about the college scene, then your experience should align with the party habits of that audience. The point is that your brand should own a fun-loving experience for your customers.


Slice 3: Be relevant

As we just discussed, it's going to be critical that you understand your target visitors. What are they into? What kind of social media, television, movies, music, and activities to they engage? Your brand should be willing to meet them where they gather and have something relevant to add to their conversation.

Brand relevance can be really tricky. If you show up on social media with just another sales offer, then you are going to come across as just another pushy salesperson that is out of touch with your audience. Being truly relevant means sincerely engaging in the things that matter to your customers. The environment you provide within your restaurants should align with your customer's sensibilities and offer the right media they want to engage.

The greatest indicator to whether or not you are getting this right within your stores is by evaluating dwell times—how long are your customers usually spending at the table? The longer they're there, the more likely it is that you are providing a solid experience for them.


Slice 4: Be an artisan

No matter what level of customers you are targeting, they all want to be assured that they are dealing with a company that knows how to provide a great product. Be proud of the pizza you bring to every table. Provide a great story about the ingredients you've selected for each menu option. Work to create a perception that your pizza is prepared with deep passion and careful craftsmanship. Have a vision for your brand that includes a unique voice about your history, your service, and your décor.

Being an artisan means being at the very top of your game. Be sure you're telling your story effectively through your signage, menu design, dining room experience, and—of course—the quality pizza you provide. If you can do this, you'll see a return on customer loyalty and market growth for all your locations.


Slice 5: Be a destination

Many of the concepts that have been covered above are about overall customer experience. These should all come into play in the idea of becoming a destination. Customers have so many options these days on how, and where, they will spend their dining dollars. Many have opted more towards convenience with take-out and delivery options for their meals—a market segment that was pioneered by the pizza industry, by the way!

Today, however, there is a real push to create dining experiences that encourage customers to meet up at businesses they love. Becoming a destination requires all the aspects we've mentioned. Your goal should be to create a singular experience for a customer that is unlike anything your competitors can provide. If your customers love spending time with your brand and want to invite their friends and family to meet at your locations, you're are in a great place to influence their buying habits. Even if they may not always have time to spend dining in your restaurant—if they have had great experiences there—they will still be willing to spend take-out and delivery dollars with your brand!


Slice 6: Be ready

Being ready covers a lot of areas. We're assuming that you are ready to implement some of the concepts we've covered up to this point. To be ready means that all the pieces have been properly prepared to make sure you can make the most out of this investment. You customer is coming, and they have expectations of what their experience with your brand will be. Be ready to exceed those expectations!

One thing that can derail your preparations quicker than anything else is a poor dining experience. It doesn't really matter how much time and resource you've put into producing amazing pizzas and a beautiful dining room atmosphere if they customer is annoyed by something as distracting as a wobbly table. Having drinks sloshing around and plates clattering on an uneven table can quickly turn all your dreams into a real nightmare!


FLAT® Tech is the global leader in solving this problem. With a wide range of table bases to match with any décor, you can create a dining experience that aligns with all the hard work you're doing to build your brand success. FLAT bases are unique in their design, integrating a patented hydraulic stabilization system that insures your tables are always wobble-free for customers. These bases also offer the added convenience of being aligned easily with other tables for larger parties—offering a perfectly seamless table surface with not annoying transitions between tables of different heights.

If you need to correct wobbling in existing tables, you can also purchase FLAT Tech's new Equalizers. These are replacement table feet that offer similar hydraulic technologies to retrofit existing tables for a stable dining experience! FLAT Equalizers are available in several different thread configurations to match with all the most popular commercial table styles.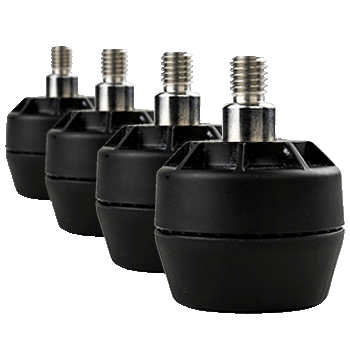 To learn more about FLAT Tech solutions, or to find your local dealer, please visit www.FlatTech.com. Our professional staff is always available to help you create the right impression with customers from their very first visit!

We hope this article has given you some great new ideas on how to find success in the pizza industry. The sky is the limit when you invest in making these concepts part of your brand experience for customers. FLAT Tech is ready to partner with you and help you reach your full potential!