FLAT® Tech Impresses Chicago-based Restaurant Group
Our team recently had the opportunity to meet with Nick Sorise, Director of Restaurant Openings for Parker Restaurant Group, and discuss the impact FLAT® products have had on their guest experience. The Parker team has been using FLAT table bases since their first location opened. Here's what they had to say.
Interviewer: Hi, thanks for taking some time to meet with us today! Tell us a little about yourself.
Nick: Hello, I'm Nick Sorise, I manage all new restaurant openings for the Parker Restaurant Group.
Interviewer: How long have you been in the restaurant and hospitality industry?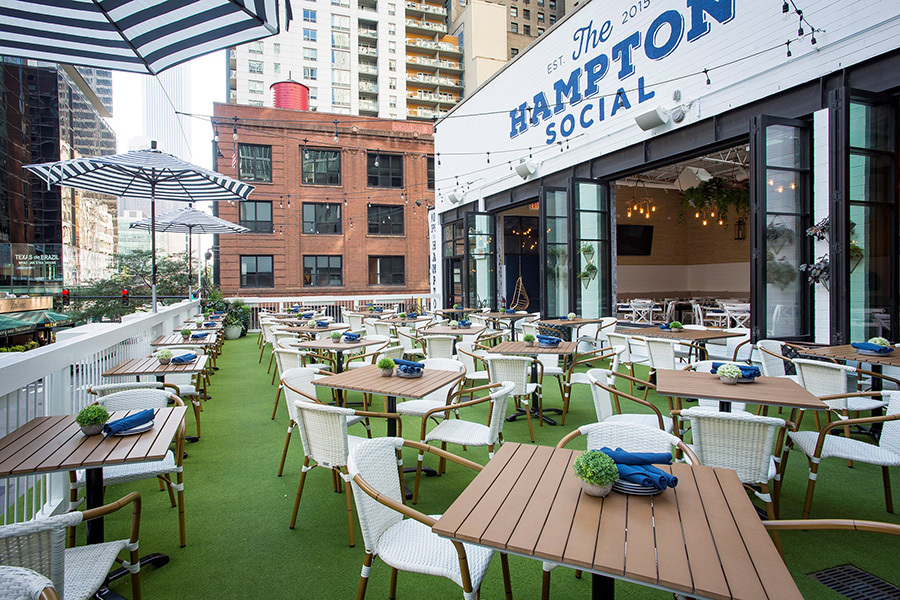 Nick: Well, it started at the age of 13 working as a dishwasher at my family's restaurant in Michigan. I attended Michigan State and earned a degree in Hospitality Business. Throughout grade school and college, I continued to explore the different duties within the restaurant industry from bussing tables to entry level management. After college, I made the decision to move to Chicago to further educate myself from some of the top leaders in the industry. From there, I worked for Gibsons Restaurant Group and Kevin Hickey, a Michelin Chef. While working with Chef Hickey, I met Brad Parker, and we hit it off. He was developing a new concept and asked if I would be interested in joining his team. That became the beginning of The Hampton Social, which opened our first location in 2015.
Interviewer: How many locations do you currently have?
Nick: We have 9 restaurants under The Hampton Social brand, and one speakeasy-style cocktail lounge called The Basement.
Interviewer: Tell me about the concept behind The Hampton Social.
Nick: It starts with Brad Parker, and his vision of having a different restaurant experience than what he was seeing in his market. Most upscale restaurants in Chicago were dark and dimly lit. The atmosphere was very old-school "romantic" settings that had become pretty stale. Brad remembered the brightly colored, well lit, and energetic restaurants he'd visited in the Mediterranean. That's the vibe he wanted to bring to his new concept… something that felt like a vacation getaway. The name "The Hampton Social" comes from New York, where many of the inner-city crowd would escape to the Hamptons for some rest and relaxation. We want our restaurants to be upbeat and casual, but classy. The Hampton Social is the kind of place where guests want to come and unwind around great food, relaxed ambiance, and world-class service.

Interviewer: What are the most important things about the experience you want to develop for your guests?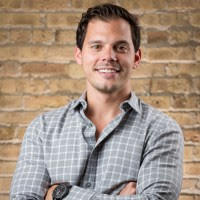 Nick: Hospitality is a huge component of what we offer to our guests. We work hard to make sure everyone is greeted warmly as a friend, and feels welcome when they visit. We always want to deliver a premium product and exceptional service. We do our best to follow the service techniques that have been developed through our combined experience at top-echelon restaurants.
Interviewer: How does having FLAT Tech products at your locations support your brand?
Nick: The details that go into a dining experience are everything. In a crowded market, it's the details that will make, or break, a customer experience. I'm always looking at the details in any restaurant I visit, because those things inform the quality and care that the owner/operator has put into their product and service.
An unstable table is unique in the fact that, you don't have to have industry experience to notice it. Every guest, no matter what their background is, will notice a wobbly table and be put off by it. You can't ignore it! It totally takes you out of the dining experience that a restaurant is trying to create. I remember when I used to work in other restaurants having to leave mid-shift to run to a restaurant equipment retailer to pick up shims to level tables that were unstable. I used to walk around with a bunch of shims in my back pocket so I could take care of my guests
If I can alleviate that distracting issue from my staff so they can focus on our brand experience, it's worth it.

Interviewer: How did you learn about FLAT Tech products?
Nick: I saw it at the NRA (National Restaurant Association) Show in Chicago before we opened the first Hampton Social location. I was excited by what I saw in their demonstration and recommended it to our team. Since we were in the process of opening our first location, we were on a tight budget and had to make every purchase decision carefully. However, after discussing with our executive team, we agreed that the FLAT Tech technology was worth investing in. Honestly, the cost difference isn't huge and the benefits are worth every penny. We've had only FLAT Tech table bases ever since, and wouldn't consider installing any other kind of table.
Interviewer: What were the aspects of their line that were most interesting to you as an owner/operator?
Nick: First, it's the price. FLAT Tech table bases are a little more expensive, but not outrageous. As a matter of fact, it was surprising to me how cheap they actually are considering the level of technology they offer. The other big thing is how easy they are to use, and that there's essentially no maintenance. I really don't know why I'd ever recommend anything else to peers looking for tables.
"An unstable table is unique in the fact that, you don't have to have industry experience to notice it. Every guest, no matter what their background is, will notice a wobbly table and be put off by it. You can't ignore it!"
Interviewer: How long have you been using FLAT Tech products in your restaurants?
Nick: 5 years now.
Interviewer: What has been your experience?
Nick: It's been a great experience. Everything that the FLAT Tech team showed in that first trade show demonstration has been proven.
Interviewer: Do you feel like the investment has been profitable for your brands?
Nick: Absolutely, I couldn't be happier. It's in all our locations, and I've never considered using any other table bases.
Interviewer: Have your staff noticed less spillages and comp'd meals/drinks?
Nick: We don't have issues with spillages and breakages from wobbly tables. It's a non-issue for us. Our executive team is very value conscious on the things we decide to invest in for our restaurants. However, we have never changed our table bases. Most restaurant chains will change up their furniture every few years, but we haven't even considered it.
Everything should be perfect, that's the goal. Not being distracted by unstable tables gives our staff the freedom to focus on other things that are important to our brand.
Interviewer: What have you heard from our staff about FLAT Tech products you've installed?
Nick: We have some managers that have come from other restaurants that were used to the heavy cast iron table bases that were on carpeted surfaces. However, all our concepts feature hard surfaces where you can't hide wobbly bases. They've loved them and been impressed on how easy they are to use. I can't imagine any operator not using them once they've tried them.
Interviewer: Have you seen any unexpected benefits from having FLAT Tech products used in your restaurants?
Nick: I just remember my days of having to run around with shims to make sure the tables were stable before I could seat guests. Patios were always the worst; it was nearly impossible to keep the tables still for an entire shift. I always had to adjust them. It's an issue I'm glad our staff doesn't have to worry about. No matter where we open dining space—and on whatever surface we want to showcase—I don't have to worry about the tables.
Interviewer: Will you continue to invest in FLAT Tech products as you grow your business?
Nick: Absolutely, FLAT Tech values the same kind of brand experience that we do. I appreciate their quality and service expectations as a customer.
Interviewer: What has been your experience working with FLAT Tech from a customer service standpoint?
Nick: Bonnie has been a perfect business partner (editorial note: Nick is referencing Bonnie Bryant, FLAT Tech US Business Sales Executive). Having good vendor partners makes my job of focusing on our business much easier. Anything that gives me more time to work on growing our business is a win for me.
Interviewer: What's next for Parker Restaurant Group?
Nick: We're preparing to open our next location in Orlando, FL and making plans for the next growth phase for the company.
FLAT Tech's main goal is to free owners and operators from the headache of wobbly tables so they can focus on creating a unique and positive experience for every guest.
If you are interested in learning more about our products, or scheduling a consultation with one of our experts, visit www.flattech.com or call us at (855) 999-3528.