How Social Media Can Ruin a Restaurant Business
Dining in 2019
If you've been to any restaurant in the past several years that's growing, it's probably not unusual to see a large portion of the room with their heads in their phones. It's also not unusual to see people snapping a picture of their food just before they dig in. The dining scene has evolved to something that fuels our social media needs, as a way to showcase our experiences as something more than just enjoying a meal out with company. Food is one of the few things that consumers (especially of the younger demographics) are still willing to indulge extra costs in, making it a potential goldmine for restaurants with the right outlook.
Instagrammable food isn't the only thing restaurants in 2019 need to provide.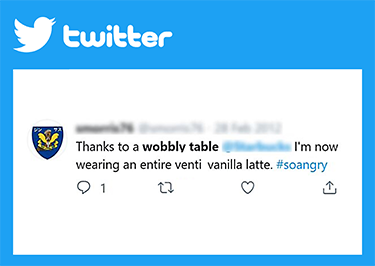 The dining experience is a huge factor in the success of a restaurant, as that carries over to customers' social fulfillment.

The Impact of Social Sharing

In a world where everyone can be a social media influencer, keeping customers engaged and happy is extremely important. There are over 2.9 billion users on social media, and an increasingly larger portion of restaurant customers spend time on their devices while dining in. With all of this social activity happening, it has the potential to elevate your business. On the other hand, it can also pose negative results.
Facebook and other social platforms exist for sharing and connecting with a community. They've become more popular places to share reviews and experiences over the last several years. Problems that may once have been spread via word of mouth now have a much larger reach and impact for your business - be it good or bad.
Just consider that one guest that shares a bad review of a restaurant may have 300 followers. However, their followers may then share that experience with their followers, causing the number of people exposed to a bad review to grow exponentially within a matter of hours.

Unfortunately, in today's culture, customers are much more inclined to share negative experiences than they would something positive, as they've come to expect that as a given. It's essential that you not only garner good reviews from happy customers but also that you take all the steps you can to avoid even one negative review. Each star in a 5-star rating can affect a restaurant's revenue by up to 10% (Harvard Business Review).
Aside from revenue, negative customer experiences can have a severe impact on your overall brand and customer retention. In a recent study given by Inc.com, "nearly 9 out of 10 consumers read reviews for local businesses before making a purchase" and "40 percent of prospective customers will not consider a business with negative online reviews." As if losing new business isn't enough, our YouGov survey (US) also suggests that 56 percent of customers would consider not returning to a restaurant if a wobbly table "spoiled their experience."
But, besides stuffing unsightly napkins and bottle corks underneath the feet, wobbly tables are still a prevalent issue in the restaurant industry. And with a rise in social sharing, the issue is going to be more visible to potential customers. Even a simple search on Twitter for "wobbly table" shows just how prevalent the conversation of table neglect is becoming. Restaurant reviews are also going to continue suffering on major review sites as a result:

Protecting Your Revenue

Be present on social media. According to Upserve.com, 30 percent of 18-to-35-year-olds would avoid a restaurant if they didn't like their Instagram presence. This group of people are statistically our biggest spenders and has given rise to the modern restaurant experience.
Make small corrections and changes that have a big impact. Update your menus, take old wobbly tables and stabilize them to avoid unnecessary complaints. Provide spaces within your dining area that invite photography for use in social media.
Listen to your customers. If your customers are taking time to comment about your business then maintain the positives and address the negatives. Don't take it personally, make a positive change.
Invest in the experience. Don't skip out on the details - they could be what makes or breaks your success. Make your restaurant a place people don't just want to eat - make it somewhere they want to be and be seen.
FLAT® wants to partner with restaurant chains to help create a comfortable and memorable experience for guests. Using either our self-stabilizing FLAT table bases—or our FLAT Equalizers for stabilizing existing table bases, we have a range of products that can alleviate wobbly table issues so you and your team can focus on more important things in your business.
Chains can enter to be considered for a free restaurant trial of FLAT products at www.FlatTech.com/promo1.
To learn more about the full line of FLAT Tech products, or to schedule a personal demonstration, please contact us directly. One of our professional team members will be happy to assist you in any way.
Sources:
http://www.cada.co.uk/social-medias-impact-on-restaurants
https://upserve.com/restaurant-insider/four-restaurant-decor-ideas-for-social-media-engagement