2020 has been an unprecedented year for foodservice and hospitality operators to say the least. With new regulations regarding safe social distancing, most restaurant indoor dining area occupancy has been reduced. Both independent restaurants and chains have moved to opening outdoor dining areas to help stabilize their business while providing for customers' safety. Now, as we enter the winter season in the Northern Hemisphere, these outdoor areas are becoming necessary dining spaces for many operators. So, how do you create great dining options for winter guests during these trying times? Here are a few ideas to make sure you can continue to stabilize your foodservice business as the mercury drops.
Government Support Programs
In the USA, the federal government, and several states, have created programs to help restaurant owners and operators create sheltered outdoor dining space through grants and incentives. These programs offer money to help restaurants invest in shelters, heaters, lighting, furniture and advertising. To find more information about the programs available in your area, contact your local commerce and economic development officials.
Safety
While planning out these new arrangements for customer dining, there are some critical areas that need to be considered. Remember that your customers' sensitivities to sanitation and service will be at an all-time high during this time. It's incumbent upon operators to provide peace of mind to their guests during their visit, or that business will not return—and will likely share their poor experience with other potential customers.
All servers should be properly trained on how to efficiently and safely do their job in both indoor and outdoor areas. Proper PPE usage and care should be a priority for all staff. Masks that are not worn properly, or unnecessary touching of customer areas should be avoided at all costs. A good cleaning regime should be demonstrated before, during and after every customer engagement.
Many restaurants are also attempting to integrate more "contactless" interactions with guests with digital ordering, mobile payment, QR codes, and mobile app usage. The fewer things your guests have to come into direct contact with, the better the experience will be perceived.
Winter Setup and Design
The first thing you need to consider is how well current outdoor seating areas are suited for winter use. You'll want to attempt to keep outdoor winter dining areas as close to the kitchen as possible, you certainly don't want servers constantly moving through areas where slips and falls could be possible. It's also important to limit how much time the food is exposed to the winter temperatures so that guests can still enjoy the hot fresh meal you've prepared for them.
These areas also need to continue to be in compliance with COVID-19 safety guidelines. So, maintaining at least 6 feet (check your local requirements) between guests is critical for safety. Obviously, it's impossible for guests to eat and drink while wearing a mask, so it is the operator's responsibility to limit cross-exposure between guests as much as possible—in addition to masks consider safe distancing and screens to protect your customers.
Don't underestimate the need to continue to provide an inviting and attractive environment to these outdoor areas as well. In the need to be safe and efficient, many of these outdoor setups can become sterile and unattractive experiences. The use of piped in music, plants, displays, and good lighting can go a long way to helping guests enjoy their time with you.
You'll also want to ensure you have set up the suitable table sizes for your guests as well. 2 tops and 4 tops will be the popular choice for most dining experiences. However, you need to be able to adjust quickly to the larger group that may come in. If you will need extra time to reflow traffic areas for larger groups, be sure to communicate on your website and other advertising that these groups will need to book in advance.
Try to provide several areas with hand sanitizers for guests and staff as well and use clear directions for traffic flow to the restrooms and exits. The service presented to guests needs to be as much about cleanliness as it is friendliness in these stressful times.
Set the Table Properly
The table is the stage at which the dining experience will revolve. Be sure that the table and chairs are cleaned before every cover and well-set. That includes an investment in personal use condiments rather than common use containers as well as comfortable space for each guest. The table needs to be an extension of the quality and safety promise you've made with customers.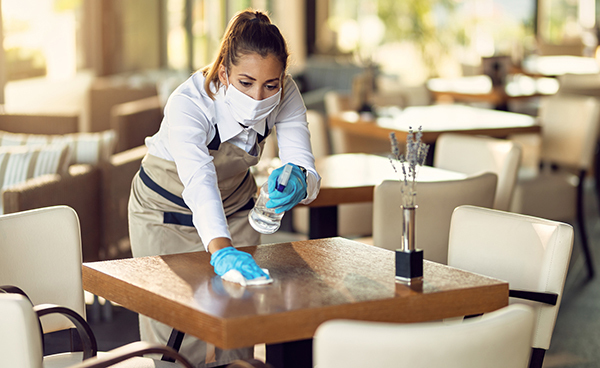 A wobbly table is a key concern that undermines all the other preparations you've made. Being seated at a table that wobbles or moves invites guests to more closely scrutinize other areas of your operation. Outdoor areas are usually set up on surfaces that were never designed to be used with dining furniture, so tables that may have worked perfectly well in the dining room may be a nightmare in an outdoor dining area.
Having waitstaff down on the ground in outdoor areas adjusting tables with dirty screw-in feet, folded cardboard, or sugar packets is also a very unflattering thing for guests to see while they have a heightened interest in safety and cleanliness.
You also want to make sure that you are turning tables quickly and efficiently to improve sales. With the constraints of social distancing, you may be working with a much smaller occupancy than usual, so each table becomes a much more important piece of real estate for your business. Having staff fighting with wobbly tables and then having to go clean their hands between issues slows down service and greatly impacts brand perception by customers.
FLAT® Solutions
FLAT® table bases and FLAT® Equalizers are perfect solutions to help make the outdoor dining experience a better option for both operators and customers. Our patented hydraulic technology allows tables to quickly and permanently stabilize on uneven surfaces.
FLAT table bases use our automatic stabilizing PAD technology that requires zero effort for staff. The system uses a hydraulic system of valves and lines that connect each foot to the others, allowing the base to automatically stabilize and lock into place. The same technology (located under the table base) allows servers to align adjoining table tops in seconds. With other 40 FLAT table base designs, you can be sure to find a table base to complement your décor and tabletops.
For operators repositioning their existing table bases outdoors - FLAT Equalizers are a convenient and cost-effective alternative. Equalizers retrofit to existing table bases replacing the table's existing screw-in feet. Once installed, staff need only give a light press to the tabletop to set the base in a stable position, the feet lock into place providing a stable dining experience.
Purchased in packs of four, Equalizers are available in most common commercial thread sizes.
Both FLAT table bases, and FLAT Equalizers are very affordable and provide a return on investment within weeks. The costs associated with spillages, comp'd meals, time spent setting and re-setting tables, dry cleaning, lost custom and shrinkage are eliminated with FLAT. All this while protecting your brand, customers and income—successfully utilizing previously unused spaces.
Considering how critical it is currently for restaurants to provide a positive experience for guests, the cost of FLAT products is easy to reconcile. In the winter season, it will be more important than ever that furniture is stable and secure in improvised outdoor dining areas.
Planning your dining experience during the winter months, while under all the guidelines and regulations of the pandemic, can be a daunting task. FLAT manufacture proven solutions to help you make this experience a positive one for your loyal customers. Learn more about all the table options currently available or find your local representative.